Bristol's Redcliffe Way could close under Localism Bill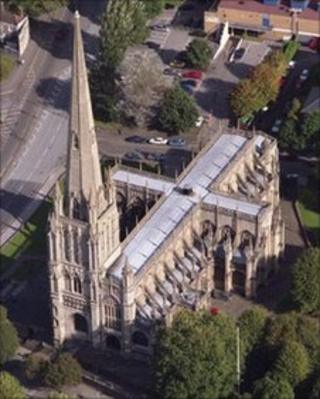 Plans to shut one of Bristol's busiest roads are being considered by a community using powers under the Localism Bill.
The group wants to close Redcliffe Way - the main road outside St Mary Redcliffe church - to traffic.
Although residents admit it is largely to stop the "incessant" traffic they believe it is for the "greater good".
But, given the impact of the proposal, it would also need to go to a city-wide referendum.
Melissa Mean, chair of the neighbourhood planning forum for the area, said most of the traffic is through traffic that "doesn't even want to be here".
"If we can tame the traffic then we get a wonderful area to do things with," she said.
"We could have green space, public space and a new square for the church."
'Community action'
The Redcliffe proposal is one of three schemes being piloted in the city to allow Bristolians to shape where they live under the Localism Bill.
The bill is intended to shift power from central government back into the hands of individuals, communities and councils.
In Bedminster a group of residents want to turn the site of a care home which is about to close into a park.
David Holford, part of the BS3 planning group, said he sent 1,000 leaflets to local residents but added only 4% were returned.
But he said: "Four percent of community action is far more effective than 100% of external developer action.
"When we've done our consultation on the streets the reaction has been unbelievable... completely the opposite to Sainsbury's proposals to develop the Ashton Gate site."
In Lockleaze Liberal Democrat councillor Guy Poultney is part of a group of people trying to deliver a supermarket and new homes to his ward.
He said: "Historically the planning regime in this ward meant imposing schemes and development bulldozing over what local people argued for.
"People are very keen that development in Hartcliffe enhances rather than devastates this neighbourhood."
All three plans have to go to public consultation and council scrutiny before a referendum is held in their district.
'False hopes'
In Redcliffe's case this would mean the whole city because of the potential impact and the result could still be overturned by Bristol City Council's planning committee.
Jeff Bishop, from the Localism Network, said he thought the limitation of the bill could mean some communities entertained false hopes.
"The big problem is that it was over-expressed and over-sold to people before the election," he said.
"They were told 'you will have control of development, you will influence or change or control it in every aspect'.
"Since then it has been made quite clear that the basic decisions about what development will happen, and to some extent where, are still going to be made at a higher level.
"[However] if they are clever and careful they can do that but it is far more limited than people expected at the outset," he added.