New jobs hope after Filton airfield closure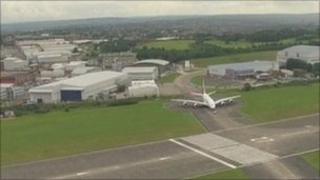 Thousands of jobs could be created after the closure of a Bristol airfield, its owners have said.
BAE Systems plans to shut Filton Airfield at the end of 2012 after it was found to be no longer viable.
It also wants to preserve some open spaces on the airfield and build thousands of new homes.
But campaign group Save Filton Airfield said it should remain open to keep Bristol at the forefront of aerospace and aviation innovation.
Andrew Cheesman, from BAE Systems, said: "What's important is to create a mixed-use development that provides opportunity to build on the aerospace industry cluster in the area."
He said the airfield could become an enterprise area which could attract businesses from the aerospace industry and create thousands of jobs.
Emergency helicopters
But Martin Farmer from Save Filton Airfield said the announcement was a "rehash" of old plans and the company was "losing a PR Battle to local residents".
BAE Systems decided to close the airfield because it was losing money and had failed to attract aviation companies to the site, which operates under night and service flight restrictions.
Despite the closure, Great Western Ambulance Service (GWAS) will continue to operate its rescue helicopter from the area and the police service is also considering the option.
GWAS said: "Filton is by far the best, and in some ways the only realistic location if we are to keep saving lives in the way we do.
"There is now the small matter of how it will all work; but we are grateful for the statement of intent."
It is believed 19 people will lose their jobs at the airfield when the site closes with 60 contractors affected.