Banksy 'paper bag' artwork in Bristol painted over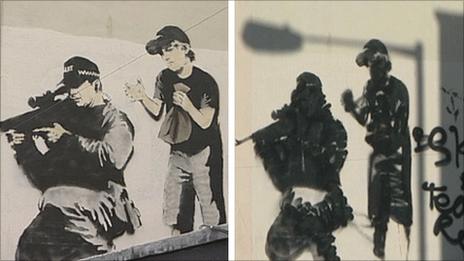 An artwork by street artist Banksy in Bristol has been painted over in an incident described by residents as an "act of vandalism".
The painting, opposite Bristol Children's Hospital, is of a crouched armed police officer, with a child about to burst a paper bag behind him.
The picture first appeared on Upper Maudlin Street four years ago. It has now been covered in black.
It is not yet known if the black paint can be removed.
In July, Banksy's gorilla in a pink mask painting on the wall of the ex-North Bristol Social Club, in Eastville, Bristol, was mistakenly painted over.
Saeed Ahmed, the building's new owner, said he had never heard of Banksy and had the wall whitewashed.
Mr Ahmed apologised for the whitewashing and the artwork has now been partially restored.
Related Internet Links
The BBC is not responsible for the content of external sites.