SlutWalk march takes place in Bristol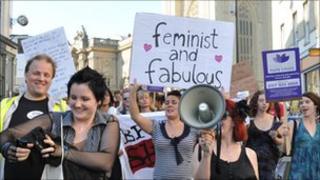 People in Bristol have taken part in a "SlutWalk" against rape, sexual violence and the blaming of victims.
The movement was sparked by a Canadian policeman who advised students to "avoid dressing like sluts" to avoid being victimised.
Since then, thousands of people worldwide have taken part in protest marches.
The march began at Bristol University students' union at 15:00 BST.
Organiser Marina O'Brien said: "I had seen the fact that it had gone global and although I felt very uncomfortable with the idea of people wanting to reclaim the word, what I did find interesting was that more people than ever were talking about rape and sexual violence."
'Many myths'
She said the word "slut" was therefore crossed through on the event's website and on some posters being carried by marchers.
"One woman is raped every nine minutes in Britain. There are few convictions and many myths," Ms O'Brien added.
"It's about putting the blame back where it belongs, on the rapist rather than the victim."
Marchers walked into the city centre before returning to College Green, where speakers from Bristol Rape Crisis, Safer Bristol, Avon and Somerset Police, Bristol Crisis Service and campaign group Daughters of Eve spoke.