Shrien Dewani lodges South Africa extradition appeal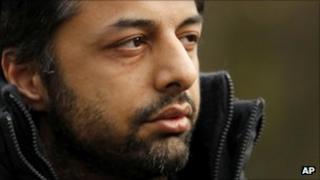 A man accused of ordering the murder of his wife in South Africa has lodged an appeal against a decision he should be extradited to face trial.
Shrien Dewani, 31, denies involvement in the killing of his wife Anni, 28, who died after their car was hijacked in Cape Town on their honeymoon.
The move for a High Court challenge comes after Home Secretary Theresa May approved his extradition on Monday.
In August, a judge ruled the Bristol care home owner could be extradited.
In a statement, Mr Dewani's solicitors - Hickman and Rose - confirmed the appeal had been lodged.
"[This] was submitted against the judgement of Senior District Judge Riddle and the order of the Secretary of State for the Home Department to extradite Mr Dewani," it said.
"The Senior District Judge found that Mr Dewani remains extremely unwell.
"He also found that Mr Dewani's condition would worsen if he were to be extradited to South Africa where bail would be unlikely and where a number of serious risks to his life and safety have been identified.
"Mr Dewani has always maintained his innocence and his intention to clear his name of all the false allegations against him."
'Public interest'
Mrs Dewani, from Sweden, was shot after a cab the couple were travelling in was hijacked in the Gugulethu township last November.
Mr Dewani was released unharmed but Mrs Dewani's body was later found in the abandoned car.
At Mr Dewani's extradition hearing in August, District Judge Howard Riddle, sitting at Belmarsh Magistrates' Court in London, said the "court must consider the strong public interest in honouring our extradition treaty".
Mrs May had to approve the judge's ruling to extradite Mr Dewani, which she did earlier in the week.
Mr Dewani faces charges of murder, conspiracy to commit murder, robbery with aggravating circumstances and obstructing the administration of justice.
Two other men, Mziwamadoda Qwabe, 25, and Xolile Mngeni, 23, are also charged with murder, as well as kidnapping and robbery with aggravating circumstances and will go on trial at the Western Cape High Court next year.
Taxi driver Zola Tongo, 31, from Bothasig, Cape Town, has already been sentenced to 18 years in jail for murder, kidnapping, robbery with aggravating circumstances and perverting the course of justice after agreeing a plea bargain.
In December, Tongo told Western Cape High Court he was offered 15,000 rand (£1,400) by Mr Dewani to kill his wife.