'Fracking threat' to Bath's hot springs, says council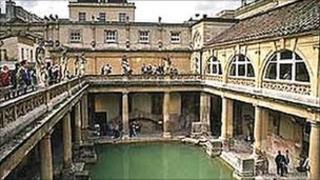 Concerns have been raised that possible 'fracking' in Somerset could pose a threat to Bath's famous hot springs.
Bath and North East Somerset Council fears the hydro-fracturing process could contaminate the water courses leading to the natural hot springs.
The council said that the Department for Energy and Climate Change (DECC) had granted licenses to Eden Energy and UK Methane Ltd to begin test drilling.
A UK Methane spokesman said the exploration did not include fracking.
'Jobs at risk'
Lib Dem council leader Paul Crossley, said: "Bath and North East Somerset Council has obtained the very best expert advice on this matter and there is little to suggest that any thought has been given to the potential for damage to the deep water sources that supply the springs in Bath.
"Given the fact the hot springs are a crucial part of the tourist attraction that sustains thousands of jobs in the city, the Council must stand-up against these drilling proposals in the strongest possible terms."
Gerwyn Williams, director of UK Methane Ltd, said the issues of pollution had been given the same "high level of consideration" as any other part of the country.
"The purpose of this initial exploration work is to determine what hydrocarbon resource, if any, is available in the area," he added.
"This entails taking ground samples, geophysical testing, laboratory work and reporting."
'Fracking' is the process used to investigate sources of gas underground by drilling a bore hole and obtaining data from either explosives or pumping water down the cavity.
The two companies must secure local planning permission before going to the DECC for consents to test the area and then to drill an exploration well.