Firms hit by fly problem near Avonmouth recycling plant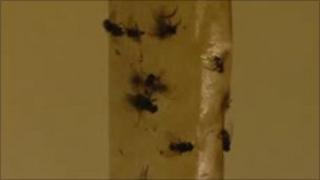 A recycling plant in Bristol has been asked to spray its vehicles by the Environment Agency to help reduce a fly infestation.
New Earth Solutions (NES), in Avonmouth, said it had followed guidelines but nearby firms said they were being overrun with insects.
Stuart Hamer, from Glulam Timber Systems, said his company had been killing up to 50 flies a day.
NES said it would start spraying vehicles as they arrived at the plant.
Mr Hamer said: "You would kill 40 or 50 a day and then the next day there would be the same amount back.
'Team of specialists'
"They're very annoying and the last thing you want is a whole bunch of flies on your food and as fast as we seem to get rid of them, they re-appear."
Pete Harte, from the Environment Agency, said the plant had an "extensive programme of insecticide" but that it had been asked to "try spraying the vehicles as they actually arrive on site".
Two thirds of Bristol's waste is processed at the facility, while the plant also accepts waste from south Gloucestershire, North Somerset and Bath.
NES said it had brought in a team of specialists who were using different methods to try and reduce the number of flies.
Operations Director Peter Mills said: "We know flies are attracted to waste, we manage the waste very intensively and we treat the waste to ensure that flies cannot breed on it, so we're unsure as to what's caused the exact extent of the fly population in the area."