Vincent Tabak 'viewed violent web porn'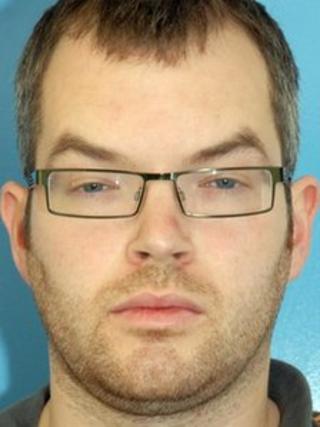 Vincent Tabak viewed violent internet pornography depicting men holding women by the neck in the weeks after he killed his Bristol neighbour Jo Yeates, it has emerged.
During legal arguments in his trial, prosecutors revealed videos and pictures found on his laptop and work computer depicted a man holding a woman's neck during sex and images of other women tied up in car boots.
Prosecutors believed that the pornographic films showed why Tabak held Miss Yeates by the neck - which led to her death.
Nigel Lickley QC wanted Tabak's internet usage to be included in the Crown's case against him but this was blocked by Mr Justice Field and the jury was not told about it.
Tabak admitted Miss Yeates's manslaughter but denied murdering her and during his trial at Bristol Crown Court he insisted he had not meant to kill the 25-year-old landscape architect.
In legal arguments without the jury present, Mr Lickley said the pornographic films and images depicted "violent images of women being held by the neck".
He added: "We submit that these images explain why he held Miss Yeates by the neck."
Tabak, the prosecution claimed, favoured films showing submissive women and others being bound and gagged and watched some more than once.
But on the eve of the trial, the judge agreed with defence QC William Clegg that the disclosure of Tabak's internet use following Miss Yeates's death could not prove the killing was premeditated.
Escort agency
While Tabak's defence team had said the killing was "a few seconds of madness" and portrayed Tabak as a quiet man who had only had one girlfriend - the police had a different view.
During a business trip in Los Angeles during autumn 2010, the Dutch national contacted an escort agency shortly before withdrawing $200 from a cash machine. He then checked into a different hotel where he was staying under the name of Francis Tabak.
On his return to a snow-covered England it was a chance encounter - a glance through a kitchen window - which would ultimately lead to Miss Yeates's death.
She and boyfriend Greg Reardon had only recently moved into the neighbouring Clifton flat to Tabak and did not know the Dutch national.
On the night of 17 December, Greg Reardon had gone to visit family in Sheffield while Tabak's girlfriend Tanja Morson had left for a Christmas party in Malmesbury.
Miss Yeates visited the Bristol Ram pub and went home early to bake cakes. Next door, a "bored" Tabak decided he would go to Asda to buy treats.
As he walked from his flat he passed Miss Yeates's window, where the pair caught each other's eye. Tabak claimed in court that Miss Yeates invited him in.
In the witness box, Tabak claimed a "flirty comment" led to him attempting to kiss Miss Yeates, which caused her to scream. Tabak held his hand over her mouth but when she screamed a second time he strangled her.
Prosecutors told Tabak's trial there was a struggle - a pathologist found 43 separate injuries on Miss Yeates's body.
After strangling Miss Yeates, Tabak put her body in the boot of his car and drove first to Asda and then to remote Longwood Lane where he left her body.
That night, much of the UK had been blanketed in heavy snow and Bristol was no exception. A huge search was launched after Mr Reardon returned and reported Miss Yeates missing but her body went unnoticed under the snow for eight days.
In the following days police arrested Miss Yeates' landlord Christopher Jefferies but he was soon released and was never charged.
And DNA evidence soon led them to Tabak.
Microscopic splatters of blood in the back of the Dutchman's car would go some way towards trapping him but, crucially, DNA on his victim's body would also link the pair.
Tabak had gone on holiday with his girlfriend to the Netherlands over Christmas and - amid the media storm surrounding the story - she had called Avon and Somerset Police to tell them where they had gone.
Officers visited the pair in Holland where both voluntarily gave DNA samples. They returned to the UK a few days later.
But on the morning of 7 January - weeks after Miss Yeates's body had been found - Tabak searched for "Jo Yeates" on Google, minutes before moving on to the violent pornographic sites.
'Top pulled up'
"Some of those films contained images of a woman again being held by the throat," Mr Lickley told Bristol Crown Court.
And some recovered images showed a petite blonde woman with her top pulled up in a similar fashion to how Miss Yeates was found.
"That suggests he derived sexual pleasure from them," said Mr Lickley.
"He received a text message from his girlfriend but continued watching the pornography."
Tabak's arrest, on 20 January, took place not in Clifton but a few miles away at the flat of a friend in Cotham.
The weight of evidence had stacked up against him and led to charges and an admission he had killed her.
Under arrest Tabak told police he did not know Miss Yeates and kept replying "no comment" under interview.
His silence even extended to his own defence lawyers.
He accepted during the trial he should have called police but after his arrest, according to Ann Redrop from the Crown Prosecution Service, he gave no reasons for the killing.
"We heard nothing more following his guilty plea to manslaughter until we received a defence case statement which very briefly said 'yes, I was invited in, I killed her, I moved her body'."
"But the why and the wherefore was completely lacking."