Excavation casts doubt over Brandon Hill fort wall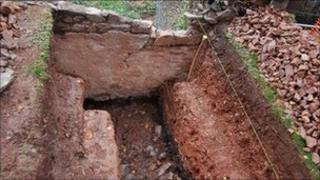 A wall built in one of Bristol's oldest parks and thought to be part of an English Civil War fort may have been constructed some hundred years later.
Part of Brandon Hill was fortified in the 1640s during the English Civil War as part of the city's defences.
Andy King, who is leading an excavation at the site, said the wall was thought to be part of a ring of forts.
He now believes the wall, close to Cabot Tower, was built to improve the view from the nearby Royal Fort House.
"What we are finding is quite astonishing really and it's changing everything that has been written about this," said Mr King, from Bristol and Region Archaeological Service.
As part of the investigation the team has dug two trenches, one going down the hill towards the waterfall and another across the ditch at the top of the hill.
"The deep ditch that goes down the hill is authentic - it's the right shape and depth - so that's part of the fort.
'Garden wall'
"But in the later 18th Century, someone's come along and remodelled the top of the hill.
"Everyone's said that the walls you can see at the top of Brandon Hill are part of the Civil War fort. We're finding out that they are not that early.
"It looks to be more of a garden wall from the later 1700s - rather like a folly - and built to look like what a fort may have looked like.
"It wasn't unexpected for us but a lot has been written about this place and it's been assumed, based mainly on map evidence, it was part of the civic defences."
Mr King said he had a suspicion the earth works may have been commissioned by Thomas Tyndall, who built the nearby Royal Fort House - now part of the University of Bristol.
"When he built his mansion and remodelled his hill, his primary view would have been towards the Brandon Hill fort," he said.
"At the time it would have been a right old mess... to tidy up the view for himself I wonder if he didn't pay people to come here and build a nice wall and make a little folly on top of the hill.
"It would certainly have improved the view from his mansion."
Brandon Hill is the only place where Civil War earth works are visible in Bristol, and most of these are designated as a Scheduled Ancient Monument.
The aim of the excavation is to reveal the original shape of the ditch and what has happened to the upper fort in the past 360 years.
The work is being funded by English Heritage.