Barge bookshop given Bristol St Nicholas Market stall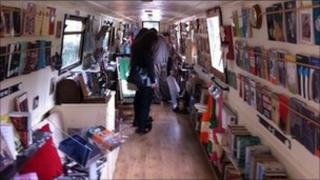 A bookseller banned from trading on a barge in Bristol has been offered a market stall in the city.
Sarah Henshaw from Lichfield, Staffordshire, has been mooring the 60ft (18m) Book Barge in places such as Oxford, and selling her stock.
But the city council refused a trading licence after saying the business was not in "Bristol's interests".
The council has since advised her of a stall in St Nicholas Market she can use on Friday and Saturday.
'Looking brighter'
Ms Henshaw, who has been trading from moorings in London, Warwick and Bath, lets customers pay for books with money or in "milk, meals and amusement".
But after mooring in front of the Arnolfini and producing a visitor's licence and a British Waterways trading licence she was told these did not apply in the city.
The council said it initially refused a licence due to a lack of public access and the "issue of liability" if someone was injured on the barge.
Ms Henshaw said: "I am really excited. They've [the city council] been really helpful since it was brought to the public's attention.
"Things are definitely looking brighter. I've had amazing support, lots of emails disagreeing with the council statement that it isn't in Bristol's interests."
A spokesman for Bristol City Council said while Ms Henshaw could not trade on water, she was entitled to trade on land.