Barge Bookshop banned from trading in Bristol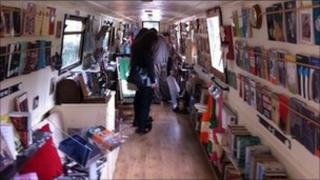 A bookshop owner who has been travelling around England and selling books from a narrowboat has been banned from trading in Bristol.
Sarah Henshaw from Lichfield, Staffordshire, has been mooring the 60ft (18m) Book Barge, in places such as Oxford, and selling her stock.
But Ms Henshaw said she had not been granted a trading licence and could not operate in Bristol.
Bristol City Council said her business "would not be in Bristol's interests".
'Really disappointing'
Ms Henshaw who lets customers pay for books with money or in "milk, meals and amusement" moored in front of the Arnolfini.
But despite having a visitors' licence and British Waterways trading licence she was told this did not apply in Bristol and she could not trade.
"It's really disappointing, I've been trading since the beginning of May and camped at a few different places and I've not had this problem anywhere else."
In a statement the council said: "There is no public right of access at this site as it is restricted to owners of boats and their crew only.
"Moreover, in certain circumstances the issue of liability could arise if a member of the public visiting the pontoon were to be injured."
It added it also had to consider other companies who were paying business rates.
Ms Henshaw said: "I am fully insured - I realise the harbourmaster has a duty of care for public safety on the waterways and for working in the best interests of the city.
"But with the amazing maritime history in Bristol I do feel that the city does have something to gain from the floating bookshop."