Bristol's St Pauls Carnival organiser made redundant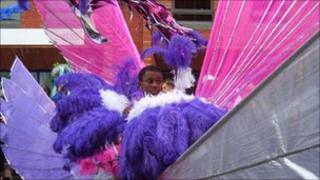 One organiser of a Bristol carnival is to be made redundant and the two other posts reviewed because of the rising cost of running the event.
About 90,000 people attended St Pauls Carnival in July.
Carnival chair Rebecca Gibbs said it cost about £1.30 per head to manage the event and it was reviewing its financial options.
She added: "The more people you have on site the more stewards, barriers and management you need for their safety."
"Looking forward we have a decision to make, based on funding, about what sort of event we are going to be delivering next year."
'Disappointing fundraising'
Earlier this year a new text donation scheme was introduced to invite those attending to use their mobile phones to donate £3 towards the running costs.
The figure raised fell far short of the £10,000 target carnival organisers had hoped for, however.
Miss Gibbs said: "We were looking for 10% of the people who attended on the day but up to date we have only had 800 people text in which is quite disappointing."
This year the carnival received £55,000 in funding from Bristol City Council and £55,000 from Arts Council England.
Funding from the Arts Council is set to increase to in excess of £90,000 a year from 2012, however the city council funding has ended and must be reapplied for.