Riot-hit Bristol retailers 'continuing to lose money'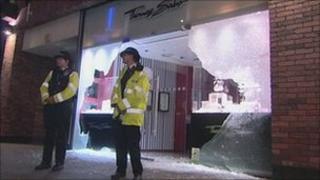 Shops are still losing money after being targeted by vandals and looters in Bristol, their owners have said.
Some city centre retailers still have boarded-up windows through fear of further disturbances.
Owners say they have lost all their stock and will not be able to re-stock for several weeks or months.
Lawrence Montgomery, who owns Rise Record Shop, said: "Working in retail is hard at the moment, working in music retail even harder, and now this."
Mr Montgomery said his shop in Clifton would be unable to re-stock for weeks because a three-storey building in North London, owned by Sony DADC, was burned down during disturbances in Enfield, London, last week.
"We weren't affected directly, but our biggest supplier had their warehouse burned down and pretty much all the stock has been destroyed," he said.
"In many ways I think this will be a watershed moment for many in the industry because we rely on carrying a huge amount of back catalogue and there will be a lot of stuff that will take months to press if they're pressed at all."
Susan Byron who manages bridal shop, Just for You, on Bond Street, said she was losing money after boarding up her windows.
"We were covered [insurance-wise], but we were more concerned about what could happen to our customers dresses.
"If they take my customers' dresses or damage it we've got a lot of girls with no wedding dresses and that's the main reason why we decided to fork out and board our shop up."
Ms Byron said despite protecting her stock she was worried about the impact it could have on potential customers.
"The last customer who came in thought we had closed down," she said.
"We're covering up probably 40m (131ft) of prime frontage and it is going to cost us, but at this point the main reason we're doing it is to protect the customers we've got and make sure their dresses are safe in storage with us."