Bristol Balloon Fiesta mass ascent goes ahead after delay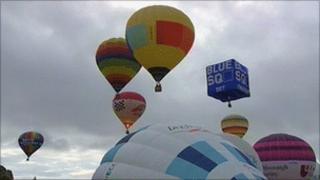 A mass ascent of hot air balloons has taken place from Ashton Court near Bristol after initially being delayed by bad weather.
Organisers said 63 balloons took off from the Bristol International Balloon Fiesta site on Friday morning.
More ascents are planned for 18:00 BST on Friday and 06:00 and 18:00 on Saturday and Sunday, with a display from the Red Arrows at 17:00 on Sunday.
On Thursday evening a special shapes ascent was cancelled due to the wind.
BBC weather forecaster Ian Fergusson said the cloud lifted sufficiently for Friday's early morning ascent and a mass ascent at 18:00 BST also took place.
Thousands at 'nightglow'
Tens of thousands of people packed into the site on Thursday evening to see the "nightglow" where tethered balloons light their burners in time to music.
This was followed by a firework display.
The theme for this year's fiesta is Made in Bristol as the event celebrates the 40th anniversary of the Bristol-based balloon manufacturer, Cameron Balloons, founded by ballooning pioneer Don Cameron.
Full details about getting to the Ashton Court by car, bus or on foot can be found on the fiesta's website.
Entry to the fiesta is free but there are charges for parking.