Letters at Bath Record Office tell story of Cadiz siege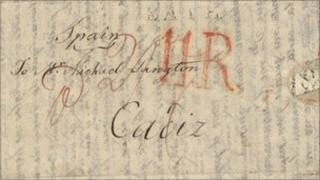 Letters which give an insight into one of the most significant events of the 19th Century have gone on display at Bath Record Office.
They were written by Maria Langton, who lived in Bath, and her husband Miguel who was trapped in the besieged Spanish city of Cadiz in 1810.
Archivist Colin Johnston said: "They give a fascinating picture of life at the time in Bath and war-torn Spain."
The letters cover topics such as politics, business and family life.
'Out of danger'
Miguel - or Mich, as he was addressed in the letters - was a wealthy Irish merchant. He was trapped in the Spanish city which was under siege from the French Army during the Peninsular War.
In one letter Maria wrote "God direct you my dearly beloved Mich. I shall never be easy until I know you out of danger."
During this point in the war nearly all of Spain was under the rule of Emperor Napoleon and Cadiz was also close to surrender.
Miguel died from natural causes and never returned from Spain.
Instead his son, Miguel Theobald, was left to execute his father's will which took him nearly seven years, writing over 150 letters to people in Spain, England, and Ireland.
The letters are part of the Langton Family Papers which were acquired by the records office in 2008.
They have now been catalogued with funding from the National Cataloguing Grant Fund and also show details of the Langton family tree.