Bristol Harbour Festival staff lose jobs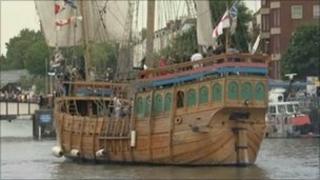 Half the team that organised last weekend's Bristol Harbour Festival are to be made redundant.
The city council, which is facing budget cuts, has failed to find a new headline sponsor after EDF Energy pulled out three years ago.
In an online survey, the council is now asking how it can raise income from visitors and attract sponsors.
A spokeswoman said the 10 staff, who are permanent, are losing their jobs as a result of budget cuts.
As well as working on the harbour festival, the arts and culture team also works on hundreds of small-scale events.
The free three-day festival, which celebrated its 40th anniversary this year, is thought to bring in about £10m to the local economy.
EDF Energy used to contribute £100,000 a year while the council spent £160,000. This year, 30 companies sponsored the festival, raising £30,000.
Some £21,000 was saved by scrapping a fireworks display.
'Real loss'
Tony Benjamin, who works at the festival and is a writer for Venue magazine, said he felt the decision could have a negative effect on the city.
"To me it has always been the one event when you see all of Bristol - every age group, every ethnic group, right across the board every social group," he said.
"If that's jeopardised for the future as a result of this, then clearly that's a real loss to all of us."
But Peter Holt, the council's head of marketing, said he was optimistic a solution will be found.
"It is a very real worry for us because we can't carry on writing blank cheques with taxpayers' money," he said.
"But we've got 11-and-a-half months until next year's harbour festival so we're very confident we'll be able to find a way through.
"We'd much rather see whether or not we can encourage businesses or even some of the great artistic and cultural venues in the city to maybe take over some of the responsibility and a little bit of the cost for many of the dozen or so stages that together make up the harbour festival."