Bristol Royal Infirmary pigeon traps condemned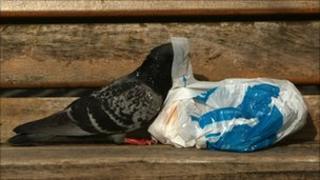 A Bristol hospital has been criticised by an animal rights group for allegedly leaving pigeons "in traps in the baking sun" for hours.
The Bristol Royal Infirmary is trying to reduce the number of pigeons nesting at the Old Building.
Bristol Animal Rights said it had been contacted by a number of people distressed at seeing trapped birds.
The trust that runs the hospital has said it is fully investigating the concerns raised.
'Such cruelty'
The animal rights group spokesman said some visitors had reported gulls trying to drag the pigeons out of the traps while they awaited extermination by pest controllers.
"We invite the trust to explain why a place of humanity and compassion should be responsible for such cruelty," he said.
A spokeswoman from University Hospitals Bristol NHS Foundation Trust said: "We work closely with, and have taken advice from, our external pest control provider to ensure that the measures we undertake across all of our city centre hospitals are appropriate.
"There are national standards in place for the provision of fresh feed and water to pigeons caught in traps and we exceed those standards.
"We take all pest control across our complex site very seriously and have a number of ongoing preventative measures in place to minimise pest activity."
The spokeswoman said the hospital trust has also spoken to the RSPCA regarding the issue.