Human tissue samples kept by Avon and Somerset Police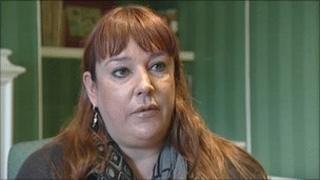 More than 100 human tissue samples were kept by Avon and Somerset Police over the past 25 years without the knowledge of families.
It said of 1,079 unexplained deaths it had kept tissue from 10% of victims.
The announcement follows a nationwide audit ordered by the Association of Chief Police Officers (Acpo).
Marie Edwards, whose daughter was buried without an organ in the Bristol heart scandal, said families should be told if tissue was taken from victims.
Ms Edwards said she was not told her daughter Jazmine's heart had been removed.
"We should have consent and we should have awareness that this is happening.
"It's the fact that we're not being asked, we're not being informed. I don't understand why this is such a closed-door subject," she said.
Anne Bundy and Jane Lyons's brother Nigel Evans died in Bristol in 2003.
They have now been told by police that his brain was missing when he was buried.
Ms Bundy said: "They do not have the right to take things without anybody's consent whatsoever.
"They just said the brain... and I was totally shocked, I didn't know what to do.
"I didn't know whether to smash a window, smack her, I really didn't know."
Avon and Somerset Police said the tissue had been retained for the "prevention, detection or prosecution of crime".
Prof Alan Jameson, director of the Forensic Institute, added that retaining tissue samples could often have a big impact on cases that appeared closed.
"Take, for example, shaken baby cases where new research and information becomes available all the time.
"If someone is convicted then it is possible that new information will come to light which could exonerate them.
"That's one example of when it appears there's closure on the case there's reason to retain anything that may have evidential value."
The police said all of the 100 families involved in tissue retention had been informed.
'Providing support'
A joint statement issued by the police and the Avon coroner said families were being offered help.
"Specially trained family liaison officers have personally visited each family," a statement said.
"We understand that this may be very upsetting for families who have been affected, and are providing all the support we can to help them at this difficult time.
"If your family has not had such a visit, then you can be assured that you are not affected by this matter."
The review of tissue samples stored by Avon and Somerset Police was sparked after West Mercia Constabulary revealed it had kept 44 such items over about 20 years.
Acpo then recommended forces across the country take part in an audit which should reveal a national picture by the start of 2012.
The cases all took place before 2006 when the Human Tissue Act came into force, which meant organisations had to tell families that body parts were being retained.
"The legislation means tissue can no longer be retained indefinitely," the force said, but added that any samples kept were under "constant review".
Acpo said police "routinely use powers to retain material taken from bodies at post-mortem examinations".
"In some cases material is retained for significant periods both as a requirement of the criminal investigation and in order to fulfil legal requirements."