Funnel cloud spotted over north Bristol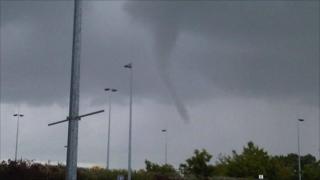 A funnel cloud was spotted over over north Bristol during stormy weather on Wednesday.
The clouds are created when rapidly rotating winds form beneath heavy shower or thunder clouds.
BBC weatherman Ian Fergusson said that over 30 tornadoes were reported across the British Isles every year.
"Strictly speaking, these are not tornadoes unless they reach the ground. It has been some time since we saw a funnel cloud as spectacular as this."
The cloud was spotted by BBC journalist Neil Bennett near the Cribbs Causeway shopping centre at about 1730 BST.
"We'd just come out the shops and someone shouted, 'there's was a twister up there'.
"It looked as if it was over Filton airfield. I guess it lasted about five minutes," Mr Bennett added
Several others contacted the BBC having seen the cloud near Downend and Stoke Lodge.