Timmy Mallett's Bristol gorilla set on fire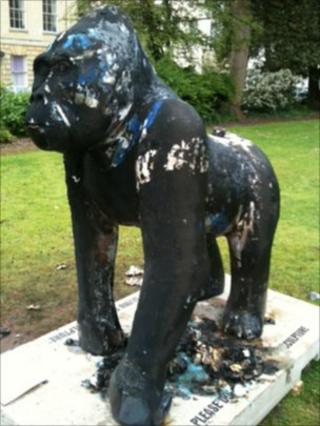 A life-sized gorilla sculpture which was painted by TV personality Timmy Mallett has been damaged by a fire.
Rubbish was found burning under the model which was created to celebrate Bristol Zoo's 175th anniversary.
The gorilla, which is situated in Clifton's Mall, has been removed by zoo staff who said it would be replaced.
Mr Mallett, who painted a Union Jack on the sculpture, said: "It's black, charred and looks terrible - that's not the gorilla I spent a month painting,"
"I will repaint him. I don't know quite how, he'll have to be cleaned up and repaired.
"This is something I'm proud of, that Bristol Zoo is proud of, and everybody involved in the whole project is thrilled to be part of.
"Let's not let a silly little thing like this stand in the way of something to celebrate."
Other decorated gorillas have been placed in various locations in the city such as the Clifton Suspension Bridge and Ashton Gate Stadium.
The gorillas, which are sponsored by businesses and painted by local artists, will eventually be auctioned for charity.
Mr Mallett's gorilla was named Kingdom.
Wendy Walton, from Bristol Zoo, said she was "really disappointed".
"A huge amount of work has gone into these gorillas and it is disappointing that this has happened.
"But hopefully we will be able to put it right and get the gorilla back to how it should be as soon as possible."