Bath swimmer Mark Foster's torso in Olympic sculpture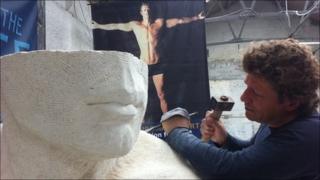 A sculpture modelled on the torso of swimmer Mark Foster is to be installed in the centre of Bath to celebrate the 2012 Olympic Games.
Ben Dearnley is chiselling the figure from a cast of the Olympic and Commonwealth competitor, who trained at the University of Bath.
The stone being used was quarried from nearby Limpley Stoke.
The sculpture, which is 6ft (182cm) high and 4ft (121cm) wide, will be installed in SouthGate in May 2012.
Mr Dearnley said he was using "soft touches" to create the sculpture from a large stone block.
He added that the figure would also remind visitors of the city's ancient past.
"You will see this monumental, classical, Romanesque fragment of a torso and it will immediately link you to the ancient part of this city."
The sculpture is being funded by the city council, and Mr Dearnley said he was getting extra support from local firms.