Future of Filton airfield site to be discussed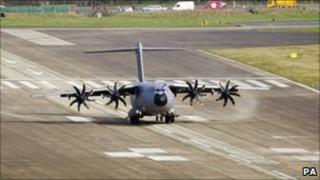 A public meeting is due to take place later to discuss the future of Filton airfield near Bristol.
In April BAE Systems which owns the site said it would close it at the end of 2012 following a review of its commercial and economic viability.
Up to 5,000 homes could be built on the site but Labour councillors from Filton Town Council want the land to be used for the aviation industry.
The meeting is to be held at the Filton Sports and Leisure centre at 1900 BST.
'Maximise potential'
Plans to keep the Concorde museum on the airfield site rather than move it to the nearby Cribbs Causeway, are also to be discussed.
Labour councillor Darryl Collins from Filton Town Council, which has called the meeting, said it needed to maximise the manufacturing potential of the site.
He added: "This will mean the whole South West can benefit from real jobs which will be very important in going forward."
Concorde 216 was the last of the fleet to fly when Concorde was withdrawn from service by British Airways in 2003 due to spiralling running costs.
Officials from BAE Systems, Airbus, South Gloucestershire Council and Filton Town Council are expected to attend the meeting.
In a statement BAE Systems said the site was not currently for sale and said the company had significant experience in the regeneration of brownfield sites.
"This is likely to include residential and commercial development, investment in infrastructure and community facilities.
"We have commenced dialogue with South Gloucestershire Council with regards a joint approach to bringing the site back into use and recently met with Filton Town Council to discuss the future of the site," it said.
Meanwhile, the wing manufacturer Airbus says it is committed to staying in Filton despite the airfield closing down.
The A400M aircraft wings made there are currently flown directly to Spain when finished but from next year Airbus will start shipping the wings abroad from Royal Portbury Dock.
The firm said this was currently what happens with the wings made at its plant in north Wales.
Bristol Airport, at Lulsgate, North Somerset, is not affected by the closure decision.
The announcement comes as the council reviews its core strategy for development in the county over the next 15 to 20 years.