Bath Rugby Club to submit Rec application by autumn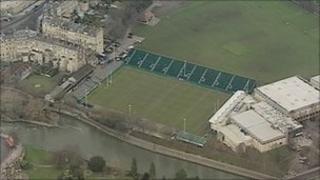 Plans for the redevelopment of the Recreation Ground in the centre of Bath could be submitted by the autumn.
Bath Rugby Club wants to move the pitch about 40m to make room to rebuild the stand along the riverside.
In return, the club intends to give land at their training ground at Lambridge back to the city.
Nick Blofeld, the club's chief executive, said a consultation on the plans had been "positive".
He said: "The public consultation is now complete. The announcement hasn't been made over what the results were but it seems to have been pretty positive.
"I'm quietly optimistic that we might even be able to get in a planning application to redevelop the stand by the river come the autumn time."
The Recreation Ground Trust recently held an eight-week consultation into the plans.
The trust, a registered charity, owns the part of the ground which Bath Rugby Club plays on, together with a large area behind it which is used for activities such as tennis, cricket and croquet.
Any plans by the rugby club to shift the ground would need to be put before the Charity Commission.
If the commission agrees the plans are in the best interests of the trust, then a planning application will be submitted to Bath and North East Somerset Council.
The area currently occupied by the rugby club takes up just over a quarter of the total space at the Rec.
Previous plans by the club to redevelop the ground were turned down by the Charity Commission in 2009.
The commission said at the time there were not sufficient benefits to the charity, but that it was open to accepting a revised proposal.