Councillors view Stoke Gifford train depot site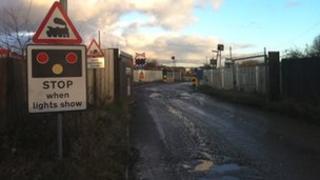 Councillors have inspected the site of a planned train service depot on the Great Western main line.
Agility Trains wants to build the depot on land at Stoke Gifford, close to Bristol Parkway railway station.
South Gloucestershire Council said the depot could create up to 200 jobs.
Campaigners opposed to the plans said there had not been enough consultation and called on developers to pick a "more appropriate" site.
Several rail lines cross at the site of the planned depot, which is on the route between Bristol and Cardiff.
Agility Trains said it hoped it would take between 18 and 24 months to build the facility on land called the Stoke Gifford triangle.
The council's transport boss Brian Allinson said the depot was sited at an accessible location for the railway.
"When you look at it and realise the mainlines all converge at that point, it is quite a sensible place to put it," he said.
'Klaxons going off'
But Stokes Campaign against the Rail Electrification Depot (Scared) said not enough consultation had gone into the planning process.
Campaigner Leslie Cox said the group had "massive concerns" about the visual impact of the depot.
The main building would accommodate two full-length trains at once and would also include offices and storage space.
Several smaller buildings - for driver accommodation and train washes - are also part of the plan.
Ms Cox said: "We're concerned about noise pollution with klaxons going off, light and dust pollution and chemicals being washed into the stream.
"I would ask them to be sensible and pick a more appropriate site because we know there are more appropriate sites."
Agility Trains, a consortium of Hitachi and John Laing, said their studies showed the depot would not affect residents and that none of the statutory bodies had objected to the proposal.