Bristol Downs water pipe plan is 'unacceptable'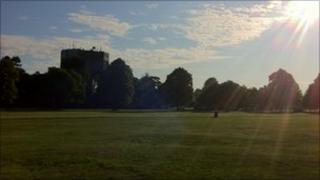 A plan to lay water pipes beneath the Downs in Bristol is "unacceptable", according to the city council.
Bristol Water is proposing laying the water main under sections of the green space from Pembroke Road to past the water tower at Blackboy Hill.
Bristol City Council said the pipeline would cause "significant impact" on sections of the Downs.
Bristol Water said the pipeline would help to give "security of supply" for residents of Bristol.
Paul Kelson from the company said they were still in discussions with Bristol City Council.
"We are looking to find the most effective route and we're still only in consultation and discussion with the council.
"These consultations are on-going and we need to find the best route."
He added the firm would undertake environmental surveys and "come to an agreement about what we have to adhere to" before work begins.
In a letter to Bristol Water, the council said digging up the Downs was "unacceptable and avoidable" and was causing "deep concern".
The authority has suggested the firm could lay the pipe - which would run beneath 1,400m of the down - along adjacent roads.
A council report said there were "concerns that this area would be extremely difficult to restore to the same condition".
Bristol Water's plan is part of a wider scheme to run a new pipe from Harry Stoke in the north of Bristol to the firm's reservoir in Clifton.
The company previously dug up some areas of the Downs in 2003 and the council said the efforts to repair the damage were "incompetent".
"Permanent harm was caused to areas of wildflower meadow," the report added.
The plan is due to be discussed by the Downs Committee on 4 July.