Boxing encouraged by Bristol MP's all-party group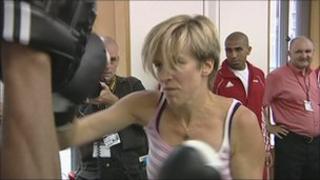 A Bristol MP has set up an all-party parliamentary group to promote boxing as a way of encouraging discipline in youngsters.
Charlotte Leslie, Conservative MP for Bristol North West, trained in boxing as a teenager and said she saw the benefits first hand.
But the British Medical Association's Dr Tom Frewin said he was concerned about the risk of brain injury.
He said boxing involved "deliberately trying to cause damage to the head".
Ms Leslie, president of Avonmouth National Smelting Boxing Club, said: "I have seen first hand the benefits of boxing in giving young people a sense of discipline, respect, self-esteem and the ability to walk away from a fight - both from my own experience boxing, and in what clubs are doing."
Speaking about how she got involved in the sport, she said: "I had a lot of energy and was quite angry about a lot of things as a teenager, I think a lot of teenagers are.
"The argument [against boxing] is that you don't want to teach young people how to hit. The reality is young people already know how to hit.
"The risk of not letting people do this are far outweighed by theoretical, controversial studies."
Paul Flynn, Labour MP for Newport West, is a former amateur boxer and said he was not in favour of encouraging young people to take up the sport.
He said: "There's a huge choice of sport, the very last one is boxing because of modern knowledge of it. It concentrates on blows to the head and the cumulative effect is brain damage.
"We should allow the sport to quietly die of shame."
Former Super Middleweight World Champion Glenn Catley, who trains teenagers at Filton College, said: "Every precaution is taken. The medical procedures are in place to prevent people having injuries in boxing is incredible.
"Yes they've happened in the past and that's unfortunate, but everything's done to stop it happening now."