World War II veteran's diary left on train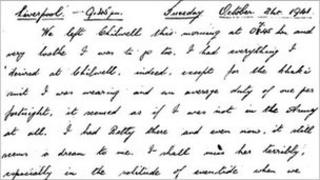 A cherished wartime diary chronicling the experiences of a 95-year-old army staff sergeant who served in World War II has been lost on a train.
The handwritten journal gives a deeply personal insight into Jim Bowles' time in the Royal Army Ordnance Corps.
It was left on the Bristol Parkway to Penzance train at Redruth by a relative who was transcribing it.
The bag was not handed in and British Transport Police said it was now treating the matter as theft.
Mr Bowles said the diary contained unseen information about the support which the British Army gave to the Soviets in their fight against German forces in 1941 to 1942 and had immense sentimental value.
'Reward offered'
He said the diary does not document key events of the war or significant historic occurrences as these are adequately covered in official records and histories of the conflict.
"Its value is that it tells the story through the voice of a man who, like so many others, left loved ones and all that he held dear behind him in Britain and went off to war not knowing what the future would hold."
Mr Bowles, who was born in Lanner, near Redruth, Cornwall, and now lives in Oakham, Rutland, said he was prepared to offer a £50 reward for information which leads to the safe return of the diary to him.
British Transport Police is appealing for the safe return of the diary which was left in a bag on the CrossCountry service at about 2300 BST on 4 April.