Winterbourne View 'abuse' hospital closes on Friday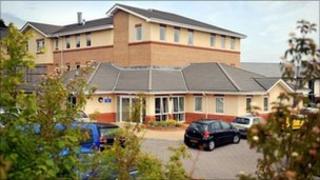 A residential hospital where alleged abuse was secretly filmed by the BBC's Panorama has closed.
Patients at Winterbourne View, near Bristol, have been transferred after the programme showed residents being pinned down, slapped and taunted.
Patients at the unit, which is run by the firm Castlebeck, were filmed by an undercover reporter.
A Castlebeck spokesman said the company wanted to ensure patients were "safely transferred".
After the programme was broadcast Castlebeck apologised and launched an internal investigation.
A number of people have been questioned by police and released on bail following the programme.
The government said a serious case review had been set for July.
Meanwhile, a group of 86 organisations has called for action to stop a repeat of the alleged abuse.
They have written to the prime minister asking that the use of residential hospitals be stopped.
David Congdon, from Mencap, one of the groups behind the letter, said people should not be placed in such facilities.
A spokesperson from the Department of Health said a serious case review would consider the points raised.
"All the issues and actions outlined in the letter will be considered fully in the Department of Health review.
"We need the full facts of what happened before deciding what actions are needed next."