Police dog training to deter Keynsham Cadbury plant thieves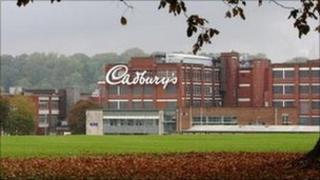 Police dog training sessions are being held at the site of the empty Cadbury factory at Keynsham near Bristol to help deter vandals and metal thieves.
Criminal gangs have targeted the former plant six times since it shut down in March, officers said.
The incidents were caught on CCTV cameras. Police said owners Kraft were looking to increase security.
In the meantime, dog handlers and their animals will be on site, training on a regular basis - day and night.
Keynsham district inspector Tim Stuckes said: "Police and the owners Kraft are fully aware how potentially attractive such a large and empty factory may appear to criminals.
"I can assure them that on-site security is already extremely vigilant and we are fully prepared to respond rapidly to any reports of criminal activity.
"We are in regular talks with the company over the site's security measures, which can be increased if considered necessary.
"Our message is that Cadbury's is not a chocolate box of goodies that scrap metal thieves can help themselves to."