Bristol Zoo red panda gets mate to boost breeding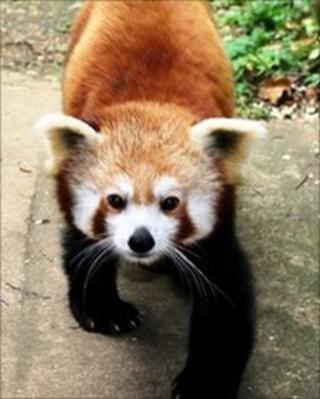 A female red panda at Bristol Zoo has a new suitor after staff shipped in a male from New Zealand in a bid to boost their breeding programme.
Sir Ed, a three-year-old male, has travelled from Wellington after he was found to be a suitable genetic pairing for Jasmina, Bristol's female.
Staff said Sir Ed was "very bright and active and is settling in nicely."
Red pandas are a vulnerable species and it is hoped this pair will produce young in the future.
"Sir Ed arrived safely and is now exploring his new home and getting to know his new companion, Jasmina," said John Partridge, senior curator of animals.
Jasmina, who is also three, was born in Rotterdam and arrived at Bristol Zoo in July 2009.
Red pandas were once thought to be closely related to the giant panda, but genetics has shown they are more closely allied with the raccoon and weasel families.
They spend most of their day sleeping curled up with their tail wrapped around their head.
Red pandas are native to the mountainous regions of Nepal and Southwest China.
Their major threat is habitat destruction, however they are also hunted by fur poachers.