Oldbury power station land could be reused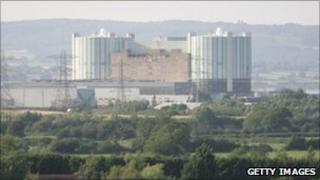 Land at a nuclear plant near Bristol could be reused after a project said there was no risk from radiation.
The study, at Oldbury power station, saw soil analysed to asses the impact of nuclear operations over the past 50 years.
It means that 32 hectares (79 acres) of land around the station could be reused.
The remaining 39 hectares (96 acres) are made up of the plant including the turbine hall and reactor buildings.
The Office for Nuclear Regulation (ONR) issued the variation to Oldbury's licence which releases the land for future use.
Matt Thames, who managed the study, said it would make a difference in the long term.
He said: "This is a major achievement for Oldbury, and means that the licensed area of the site is virtually halved, making it much easier for the land to be re-used in the future."