Dewani honeymoon murder: suspect has brain surgery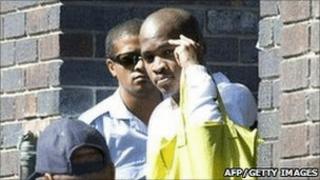 One of the two men accused of murdering honeymooner Anni Dewani in South Africa has had brain surgery to remove a tumour.
Wynberg Regional Court was handed a medical certificate as proof of Xolile Mngeni's condition.
South African authorities want to extradite Mrs Dewani's husband Shrien, a Bristol care home owner, to question him about the murder in November 2010.
Mr Mngeni is accused, along with Mziwamadoda Qwabe, of murder.
South African police claim Mr Dewani paid the men to shoot his 28-year-old bride in the back of a taxi during a staged hijacking.
Rodney de Kock, the director for public prosecutions in the Western Cape, told the court that Mr Mngeni was at Groote Schuur Hospital.
He said he hoped to have more information by 2 August about his progress.
Mr Qwabe was also remanded in custody until then.
Taxi driver Zola Tongo has already claimed in a plea bargain that Mr Dewani offered him cash to arrange for two hitmen to ambush his vehicle.
Mr Dewani and Tongo were ejected from the cab and Mrs Dewani was driven off and killed.
Tongo, 31, from Bothasig, Cape Town, has been sentenced to 18 years in jail for murder, kidnapping, robbery with aggravating circumstances and perverting the course of justice.
Mr Dewani, 31, denies any wrongdoing and is fighting extradition.
Mr Qwabe, 25, and Mr Mngeni, 23, are charged with murder, kidnapping and robbery with aggravating circumstances.