Winterbourne View abuse serious case review date set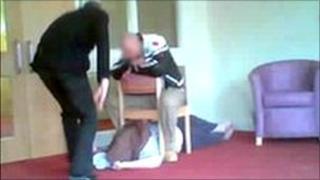 A serious case review into alleged abuse at a residential hospital for vulnerable adults near Bristol has been set for July.
South Gloucestershire Council said it would examine "the effectiveness of the safeguarding system and processes" at Winterbourne View hospital.
Secret filming by BBC's Panorama programme showed residents being pinned down, slapped and taunted.
Eleven people have been questioned and bailed by police.
It emerged on Thursday that council staff may have been been told five times in two months about fears of abuse at the privately-owned hospital.
Peter Murphy, director of community care at the council, said they received an e-mail expressing concern about the hospital five months before filming took place.
He said he did not realise the extent of the problems but that his staff did follow up the concerns.
Mr Murphy said he did not believe he should resign.
'Actions agreed'
"We received an e-mail from the manager of Winterbourne View in late October which set out a range of concerns around poor practice in the hospital," Mr Murphy said.
"It's important to stress that those allegations within the e-mail were nothing compared to what we saw and shocked us on the Panorama programme."
Mr Murphy said the abuse he saw on the programme had sickened him.
He said: "Our safeguarding manager made contact with Winterbourne View, there was telephone contact straight away. That was followed up by further discussions.
"The Care Quality Commission (CQC) were then engaged in those discussions and a set of actions were agreed."
He said the actions were not agreed until February.
'Whistleblowing episode'
"We have to go back and look at the whistleblowing episode and conduct an in-depth inquiry into the decision making processes which led us from receiving the e-mail in October and having a meeting in February," he said.
The Safeguarding Adults Board has appointed Margaret Flynn to chair the review.
Ms Flynn, who is chairman of the Lancashire Safeguarding Adults Board, has conducted many serious case reviews across the UK and is also joint editor of the Journal of Adult Protection.
The vulnerable patients filmed by Panorama have been moved to safety.
There will be more on this story on the Politics Show on BBC1 at noon on Sunday.