Bristol bus and ferry service subsidies go in council cuts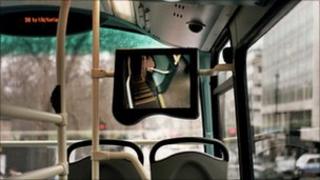 Council subsidies for Bristol bank holiday buses and the commuter ferry service will go after the city cabinet voted through transport cuts of £2.2m.
The hung council will also stop subsidising some evening services, meaning buses could run every hour instead of half hour.
The yellow school bus in Henbury could be saved if the school agrees to share the cost with the council.
Negotiations are continuing on whether night buses will still be subsidised.
The cuts will mean an end to the ferry service and it will be up to the bus companies to decide if bank holiday services can continue.
The Harbourside Orbital (500) and Bedminster Down to Hotwells Shopper (510) services will finish completely, and subsidies will end for all Sunday evening buses.
The council has told Henbury School it will pay a small amount to keep the Yellow Bus to the school gates from Southmead going if the school also provides funding.
Portishead rail line
Park and Ride services will now stop at 1900 BST and run less frequently. Fares will go up 50p from September and the routes - now run by CT Plus - will be served by bendy buses.
If the night buses continue, fares will go up by £1 a ticket in September.
The city council also announced a cab-share service which will begin in September along set routes with set fares.
In the same month, a passenger train will be trialed on the Portishead rail line with the intention of bringing the line back into use within 5 years.
The cuts were made following a public survey between March and May in which more than 1,500 people took part.
In November 2010, contracts to run 60 subsidised services were put out to tender.
The council, then controlled by the Liberal Democrats, said at the time it hoped increased competition for incumbent operator First would help to lower fares.
But no other major operator tabled a serious bid.
Tim Kent, the Liberal Democrat in charge of transport, said the tendering process had shown some routes would become more expensive to subsidise.