Concorde future at Filton could be agreed by September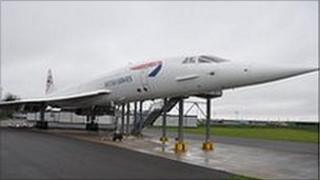 British Airways (BA) and Airbus say they hope a way forward regarding the future of the last Concorde to fly will be secured by September.
The jet was on display in Filton until late 2010 but was closed by Airbus, which was loaned the plane by BA so the firm could carry out maintenance.
A bid for £2.9m towards building a museum to house it was turned down by the Heritage Lottery Fund in May.
Airbus and BA said they would enter into talks with a number of groups.
The plane - called Concorde 216 or Alpha Foxtrot - was the last of the fleet to fly when Concorde was withdrawn from service by BA in 2003 due to increased running costs.
'Permanent home'
The Concorde Trust's plans for the museum at Cribbs Causeway were first submitted in 2007 but building work has never started because of a lack of funding.
The museum, which was recently given an £840,000 cash boost by Airbus, has almost £8m still to raise.
BA and Airbus said they would enter into talks with the Concorde Trust, Club Concorde and the Save Concorde Group, which they thought were "best placed to come up with a viable proposal".
In a joint statement, BA and Airbus said: "Although in a good condition, Concorde 216 has been parked outside at Filton airfield since 2003 and is clearly in need of a permanent home under cover.
"To this end Airbus and BA have agreed to enter into discussions with a number of groups that have expressed a keen interest in the future of the aircraft, in order to ascertain the best way to protect the aircraft and secure her future.
"Both BA and Airbus hope that there will be a clear way forward for the aircraft by the autumn (September)."