Avon Fire helicopter trial gets under way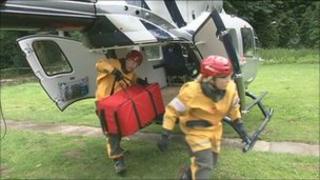 A helicopter is being trialled by Avon Fire and Rescue to see if it can speed up response times.
Fire chiefs have said it would be quicker and more efficient to fly in specialist teams to road crashes.
Four fire engines and crews would be cut to pay for the helicopter and its £800,000-a-year running costs.
But the move has been criticised by the Fire Brigades Union which said the plan was a "folly".
Managers say the helicopter would be able to get to incidents within 11 minutes compared to 20 minutes with traditional road crews.
A spokesman for Avon Fire and Rescue said most of the 48 jobs needed to pay for the helicopter had already gone through natural wastage.
During the week-long trial the service has been involved in mock river rescues to test the kit.