Land near Temple Meads named as Bristol enterprise zone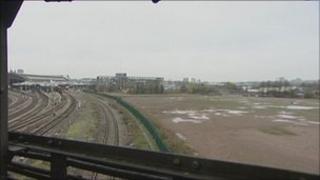 An area alongside Bristol Temple Meads railway station has been named as a local enterprise zone.
Plans to establish 21 Local Enterprise Zones in England were announced in the last Budget.
The new zone in Bristol, covering 70 hectares, will offer reduced business rates and simplified planning rules.
The government said the zones would also be given direct support through a regional growth fund, especially in areas with "particular challenges".
Colin Skellett, the chairman of the West of England Partnership, said the zone in the area known as Temple Quarter, would be an advantage to Bristol businesses.
'Excellent news'
"We set ourselves the task of removing the barriers to the creation of new jobs and the government gave us the opportunity to do that, in part, by creating an enterprise zone.
"It brings a number of advantages to businesses by reducing both the amount of planning red tape and the cost of their rates.
"But it also generates benefits for the area as a whole since we are able to retain the business rates that are generated which can be used to improve the other five areas we have identified."
Bristol City Council leader Barbara Janke said the move would bring new jobs to the area.
"This is excellent news for Bristol and the whole region because the Temple Quarter site is a major gateway that has huge potential to generate jobs and investment.
"In five years alone almost 4,000 jobs will be created in around 40 businesses - with more to come in the long term."