Bristol Rovers proposes move from Memorial Stadium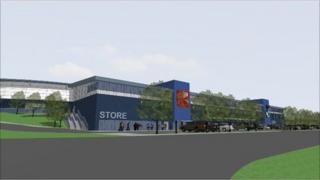 Bristol Rovers Football Club is proposing a move to a new £40m stadium near the city's ring road.
The club is based at the Memorial Stadium but attempts to redevelop the site have faltered despite planning permission being granted in 2007.
The club is now considering a move to land owned by the University of the West of England close to the Avon Ring Road on the edge of Bristol.
The Memorial Stadium would then be sold to supermarket chain Sainsbury's.
Money from the sale would finance the move to the new ground.
The supermarket group recently won planning permission to build its largest supermarket in the South West at Bristol City's ground, Ashton Gate.
Any move to a new stadium would be dependent on planning permission for both the supermarket and the new stadium.
Bristol Rugby - which shares the Memorial Stadium with Rovers - has been invited to move and the new ground would conform to football and rugby regulations.
'Regional significance'
Bristol Rovers chairman Nick Higgs said they had been considering the move for some time.
"Negotiations on this project have been going on for nearly two years, in tandem with our plans to develop the existing Memorial Stadium site," he said.
"We have looked at several sites in Bristol and South Gloucestershire, but we felt this land ticked all the boxes to allow us to build the best possible stadium for Bristol Rovers.
"This is a development of regional significance to South Gloucestershire, Bristol and the wider community."
A statement from the club confirmed the planned stadium would include 20,000 seats, shopping facilities and teaching space for the university.
Labour councillor Roger Hutchinson said the move of the club from Bristol's boundaries to South Gloucestershire would be a "prestigious" coup for the authority.
But he added that the council would need to look closely at how people could get to the stadium.
Transport infrastructure
Mr Hutchinson added the new stadium would also include some retail aspects.
Liberal Democrat Pat Hockey, who chairs the council's planning committee, said the location for the stadium was something the club had been searching for.
"It will be a typical stadium designed, I hope, to fit in with the local environment," she said.
"It is close to the motorway and it is on bus routes and there are two [railway] stations not too far away."
The new stadium would also be sited close to the ground of Bristol Academy - the city's women's team.
Other locations the club has been linked to include the former Rolls Royce site near Filton Airfield and land near the M32.
The club was relegated to League Two at the end of the 2010/11 season.