Bristol tourism levy could raise £3m for city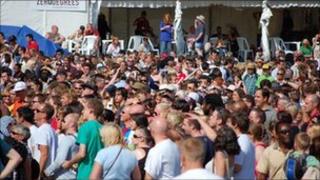 Hotels in Bristol could be asked to pay a levy that would raise up to £3m to be spent improving tourism.
The charge would be introduced under Business Improvement District rules, usually used to improve small retail spaces.
A majority of hotels would have to support it for the scheme to be introduced.
Concerns have been raised that the levy would be "dangerous" to independent hoteliers in the city.
If the fee is introduced it would be administered by tourism body Destination Bristol (DB).
John Hallett, of DB, said the money would be reinvested and used to support high-profile events such as the Bristol Harbour Festival.
"We have to make sure that if this goes ahead then any money which is raised is reinvested back into growing the market rather than just simply acting as a levy or as a tax," he said.
"This is a way of the industry getting together to pool a little bit of the money which is generated off the back of tourism."
However, Joanne Tiernay, manager of the Washington Guesthouse in Clifton, said she was not in favour of the move.
"I think it would be a dangerous thing for independent hoteliers," she said.
"Things are very price-sensitive at the moment and it may not seem like a lot but an extra pound is something people would not want to pay. We would have to pass it on to the consumer."