Metropolitan Police refuses to escort Bristol ambulance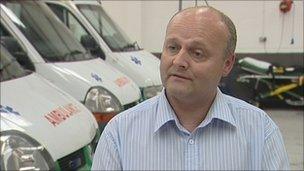 The Metropolitan Police has been criticised for failing to provide or allow an emergency escort for an ambulance taking a man to hospital.
The critically ill man, who was on a life-support machine, was being taken from Bristol to London by a private ambulance service.
Geoff Clarke, head of Bristol Ambulance EMS, said: "I was absolutely appalled."
A Met spokesman said it was its policy not to escort ambulances from NHS Trusts outside of London.
Mr Clarke told the BBC: "I said to the Met, 'how can you justify providing escorts for diplomats and celebrities but not for an ambulance with a patient in a life threatening state'? I got silence.
"I rang them three or four times, speaking to different people at the command and control centre."
A medical team at Bristol Royal Infirmary requested the police escort to Kings College Hospital at 1600 BST on 17 May.
Avon and Somerset Police provided two vehicles to escort the ambulance from Bristol and had initially expected the Met to take over closer to London.
But, while en route, officers received a message that there would be no escort in the capital.
The Avon and Somerset officers responded by saying they would continue the escort under emergency conditions into London.
The Met told them they could only enter the capital if they switched off their lights and sirens.
It is understood that Avon and Somerset decided this would be of no help to the ambulance and the officers turned back at Reading.
In an interview with BBC East home affairs correspondent Sally Chidzoy, Mr Clarke said: "The Met told me if Avon and Somerset Police officers were involved in an incident, it would be the responsibility of the Met to deal with it - so if the ambulance got stuck in traffic and the patient died as a result, would that be the responsibility of the Met?
"I plan to write letters of complaint to the Met Police Commission and the Mayor Boris Johnson."
One of the ambulance crew involved in the emergency reported that once the ambulance arrived in the London area, the traffic was moving so slowly that "it was nothing more than a moving car park".
The patient, a young man who has not been named, arrived at the hospital at 1833 BST but died following complications on the operating table.
Mr Clarke said: "I'm not saying this contributed to his death, that this made a difference to the outcome, but I was absolutely appalled.
"The (Met) police are there to protect and serve. Where were they? Also, where is the police duty of care to ensure the safety of the road users in London when the ambulance is urgently trying to reach a hospital?"
A Met spokesman said: "It is MPS policy that police escorts will not be provided to ambulances from NHS trusts outside of London as improved street navigation and route planning systems render these unnecessary.
"A vehicle used for ambulance purposes is permitted to use lights and warning equipment in an emergency to exceed speed limits and treat red traffic lights as give way signs."
Chief Inspector Kevin Instance, of Avon and Somerset Police, said: "It was agreed that an escort would be provided by our officers onto the M4.
"Officers from Avon and Somerset provided assistance to the Reading area and a request was made to the Metropolitan Police for them to provide assistance within their area. Our officers then returned to Bristol."
Related Internet Links
The BBC is not responsible for the content of external sites.