RNLI looks at 'adopting' Portishead's lifeboat team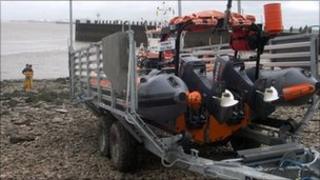 A lifeboat team at Portishead near Bristol could be adopted by the Royal National Lifeboat Institution (RNLI).
The RNLI has agreed to the move in principle and has conducted trials to assess if they can launch craft there.
Adrian Carey, from the RNLI, said the station would compliment others already open on the Severn Estuary.
"We are continuing positive negotiations with The Portishead Lifeboat Trust regarding their request for adoption."
The RNLI currently has stations at Burnham-on-Sea, Weston-super-Mare, Penarth and Barry Dock and Mr Carey said it would "make sense" for Portishead to join them.
Dave Herbert, from Portishead Lifeboat Trust, said the move would give the station security.
"We believe adoption by the RNLI is the way forward in providing for the long term future of the lifeboat in Portishead," he said.