Olympic flame is to visit Bristol on way to 2012 Games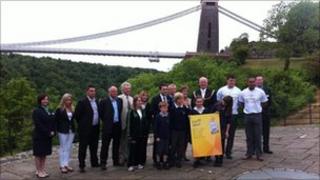 The Olympic flame is to visit Bristol as part of its route to the London 2012 Games.
The torch arrives in the UK from Greece on 18 May 2012 and the 70-day relay starts at Land's End before visiting Bristol on 22 May.
Councillor Simon Cook, who is in charge of culture and sport for the authority, said it was "very good news" and added the torch would stay overnight.
"The profile which the city will get will be enormous," he added.
He said there would be an event at Millennium Square in the centre of Bristol starting at 1730 BST.
"We would hope to amplify that event with another event of our own," Mr Cook said.
"The details haven't yet been worked out because the event is a year away."
Bath sprinter and Olympic gold medal winner Jason Gardener said he was looking forward to the event.
"Despite competing at two Olympic games and working at one of the games, I've not actually seen the torch pass through communities.
"At the opening ceremony in Athens and Sydney I was at a preparation camp far away so for me it will be lovely to see the flame pass through the West Country."
Full details of the route will be announced next year but organisers say that 95% of Britons will be within an hour's journey of seeing the torch.
A nomination process will be used to pick the 8,000 torch-bearers.
The flame is due to arrive in London the weekend before the start of the Games on 27 July.