Wiltshire Council chief defends 'unfair' pay increase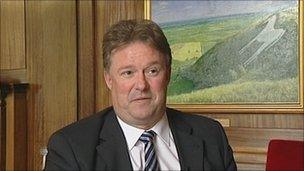 Wiltshire Council's chief executive has defended his acceptance of a pay rise, following union criticism.
The public sector union Unison wants Andrew Kerr to hand back the £6,000 incremental increase at a time when jobs and services are being cut.
The Conservative-run authority is making £99m of savings over four years and 220 managers have already taken voluntary redundancy.
Mr Kerr said the complexity of his job justified his £189,000 salary.
The former international athlete took on the job of chief executive in February last year.
"I've got 15,000 staff. This business turns over nearly £1bn a year. We deliver 350-odd different services. It's a big complex job which I believe justifies the salary that I earn," he said.
But Unison spokesman Chris Howe said: "Our members' pay is frozen. Their increments are likely to be frozen and I can't see them standing back and saying 'Well done Mr Kerr, I think you deserve that'."
Wiltshire Council said if it had not become a unitary authority, five separate district council chief executives would each be earning salaries of £600,000 a year.
By switching to one, it said, it had saved taxpayers' money.
Related Internet Links
The BBC is not responsible for the content of external sites.