Bath's Holburne Museum to reopen after £11.2m of work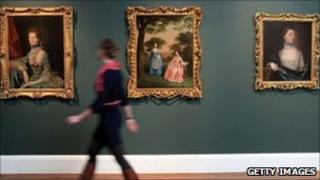 The Holburne Museum in Bath is to reopen to the public on Saturday, following an £11.2m transformation.
The work included restoring the Grade I listed building and building a modern ceramic and glass extension.
The museum is home to fine and decorative arts built around the collection of Sir William Holburne.
The museum, which was founded in 1882, is the city's first public art gallery. It closed in 2008 for the restoration.
Works from Sir William's collection, which was first assembled in the 19th Century, include artworks by Gainsborough, Zoffany and Stubbs.
Museum director Alexander Sturgis said: "This development is a strong statement of the museum's confidence and ambition to become one of the major cultural attractions in the region.
"We are of course immensely grateful to the Heritage Lottery Fund for its award and to all our other donors who have made this development project possible."