John Cleese charged with speeding near Bath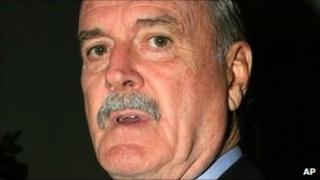 Fawlty Towers and Monty Python star John Cleese has been charged with speeding.
Bath Magistrates' Court heard his Mini Cooper was photographed exceeding 30mph on the A4 at Saltford, between Bath and Bristol, on 6 November last year.
Mr Cleese, 71, who lives in Bath, is also charged with failing to provide the identity of the driver of the car.
The case is due to be heard later this month but Mr Cleese does not have to attend in person.
The 6ft 5in comedian is touring the country in his one-man show, the Alimony Tour, named because he says it is helping to pay the £12m divorce settlement awarded to his third wife, psychotherapist Alice Faye Eichelberger.
The pair divorced in 2008.