Bristol hunt for missing Kings Weston House statue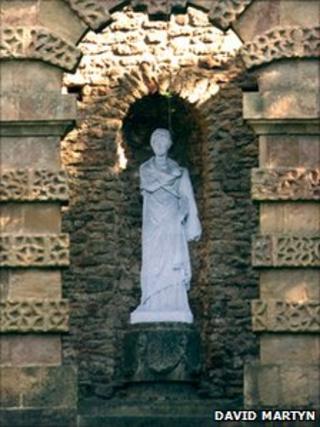 A statue which went missing from a plinth in Bristol is being sought by campaigners, 40 years on.
Kings Weston Action Group is looking for the marble sculpture which was housed in one of the pavilions of Kings Weston House in the north of the city.
The pavilion, called The Echo, was built in the 1720s. The ornate plinth is still there but the statue was last seen 40 years ago.
The house and pavilion were designed by prominent architect Sir John Vanbrugh.
"There must be people in Bristol who know what happened to her," said Kings Weston Action Group spokesman and architect David Martyn.
"The house has been the home of a school, college, and police training centre since the war and hundreds of people must have passed through.
"I'm sure someone must have seen the statue and remembers when she left and where she went.
"We'd really love to relocate her and see if she can be reinstated."
'Huge significance'
The Georgian statue is of a woman draped in classical robes and with her hair in braids. Her identity is unknown.
Architectural historian Andrew Foyle said: "This Greek or Roman-inspired figure clearly formed a high point of the gardens, east of the house.
"Tracking down the original figure would be of huge significance in the story of Kings Weston heritage."
The statue was removed during World War II, when the park was used as barracks for the US Army, and may have been badly damaged.
It was taken to the basement of Kings Weston House where it stayed for a number of years.
The statue was at the centre of the student's common room of the old Bristol College of Science and Technology Architecture but, since the 1970s, its location has been a mystery.
To coincide with the launch of their campaign, Kings Weston Action Group has recreated a scale replica of the statue from a 1927 photo.