Bristol in bid to host 'green' bank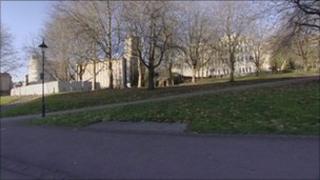 Bristol has submitted a bid to host the government's new green investment bank.
The derelict Bank of England building by Castle Park has been suggested as a possible location.
The national bank is being set up with £3bn of public money to help firms fund renewable energy schemes.
Bristol City Council leader Barbara Janke said it would be good news for employment in the city both in the banking and green sector.
'Green capital'
"As we have many environmental technologies located here it would attract more of those and investment in those jobs," the Liberal Democrat councillor said.
"I think it could also affect the way we deliver skills and training - offering jobs to the industries of the future.
"I think it will put Bristol on the map as the green capital."
The bank's start-up capital is intended to match £15bn of private sector funding over the next four years. After 2015, it should have powers to borrow more extensively from the private money markets.
Bristol is competing with Edinburgh to secure the investment.
The business case for an Edinburgh headquarters is based on the Scottish capital being the fourth biggest financial centre in Europe, with particular strengths in asset management, and home to four universities.
A letter has been sent to Business Secretary Vince Cable, signed by local councillors and businesses, which puts forward Bristol's credentials as a green city and its track record of ethical banking.