Bristol riots Banksy poster bought by fans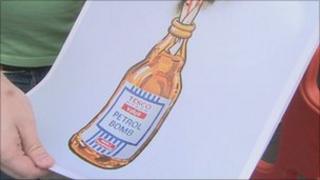 Hundreds of fans of Bristol graffiti artist queued to get a limited edition artwork depicting a Tesco Value petrol bomb in the wake of riots in the city.
An image of the poster appeared on Banksy's website last Wednesday.
Disturbances broke out in Stokes Croft in April after police raided a squat over fears that a newly-opened Tesco would be petrol bombed.
Proceeds of the sale of the print will go to groups, including the People's Republic of Stokes Croft (PRSC).
Banksy fans travelled from across the UK and some said they had queued for hours to buy the poster at a book fair in the city.
One told the BBC: "I'm a big Banksy fan, I've travelled from Manchester and I just wanted to support [Stokes Croft].
A statement accompanying the release of the image said: "Banksy has produced this fine commemorative souvenir poster."
The police raid led to a large protest in the early hours of 22 April and was followed by a second demonstration on 28 April.
Officers have arrested 37 people and charged nine over the two protests.