Claims Shrien Dewani would be mistreated in jail denied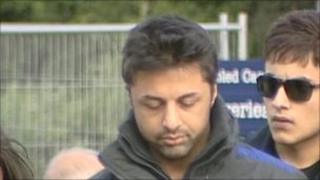 A man wanted in South Africa for questioning about the murder of his wife would not be mistreated in prison, his extradition hearing has heard.
South African authorities want to extradite Shrien Dewani after his bride, Anni, 28, was shot dead in a taxi in Cape Town last November.
Belmarsh Magistrates' Court heard claims Mr Dewani could face being harmed if kept in a South African jail.
But a South African judge said he would be in a jail like a "five-star" hotel.
Judge Deon Hurter van Zyl told the hearing that if Mr Dewani were to be convicted of murder and sentenced to less than 20 years he would be sent to Malmesbury Medium A prison, located some 40 miles (65km) from Cape Town.
Describing conditions inside the prison, he said: "I thought 'if this is the quality of prisons it looks far too much like a five-star hotel'."
The prison is currently 13% over capacity, but the judge described this as "really nothing".
Bail of £250,000
Malmesbury Correctional Centre has a total carrying capacity of 1,300 offenders, which are accommodated in seven housing units, consisting of double and single cells
Mr Dewani, who denies any wrongdoing, is on bail but is being held at a mental health hospital in Bristol.
He remains subject to £250,000 bail and the requirement that he reports daily to a local police station.
Mrs Dewani, from Sweden, was shot when a cab the couple were travelling in was hijacked in the Gugulethu township in Cape Town last November.
Her body was later found in the abandoned car. Mr Dewani had been released unharmed.
Mziwamadoda Qwabe, 25, and Xolile Mngeni, 23, are charged with murder, kidnapping and robbery with aggravating circumstances.
The trial in South Africa of Mr Qwabe and Mr Mngeni has been postponed until 1 June.
Taxi driver Zola Tongo, 31, from Bothasig, Cape Town, has been sentenced to 18 years in jail for murder, kidnapping, robbery with aggravating circumstances and perverting the course of justice.