Banksy produces 'souvenir' poster of Bristol riots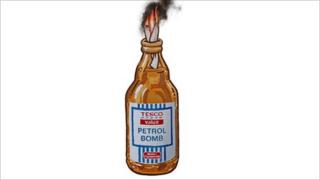 Bristol graffiti artist Banksy has created a new image depicting a Tesco Value petrol bomb in the wake of riots in the city.
The new work, which will be sold as a print, appeared on Banksy's website on Wednesday morning.
The riots in Stokes Croft took place after a Tesco Express store opened despite protests from residents.
Proceeds of the sale of the print will go to groups, including the People's Republic of Stokes Croft (PRSC).
Last month, police raided a squat opposite the Tesco store saying they had intelligence that petrol bombs were being made there.
That led to a large protest in the early hours of 22 April and was followed by a second demonstration on 28 April.
Officers have arrested 37 people and charged nine people over the two protests.
The new image was released with a statement which said: "Banksy has produced this fine commemorative souvenir poster."
'Raise the debate'
A spokesperson for Banksy confirmed it was an original work by the artist.
Chris Chalkey, from PRSC, said they were contacted by Banksy's management on Tuesday.
Mr Chalkey said: "I think Banksy comes from Bristol and he's interested in the affairs of what goes on here.
"I think it's going to raise the debate about what's happened and it's going to help focus attention on an issue that's extremely important - that of corporate power."
Mr Chalkey added it would also highlight the importance of local community and added that Banksy had a "long history" of involvement with Stokes Croft.
"In Stokes Croft we have [another of Banksy's pieces] Mild, Mild, West... and it's my understanding that it's about police brutality and it's 15 years old."
It is not the first time Tesco has featured in Banksy's work. In 2005 he started releasing a series of Tesco value soup can prints referencing Andy Warhol's famous soup can.
In 2008 he released the print Very Little Helps, which depicted children patriotically standing below a Tesco flag. A canvas of the image was sold for £195,000 at auction to raise money for Ken Livingstone's mayoral campaign.
He also hung an original canvas of his soup can in New York's Museum Of Modern Art, which lasted three days before being taken down by the museum.
A statement from Tesco after the disturbances said it was "very sad that a handful of individuals" had rioted.
"The violence in Stokes Croft and beyond underlines that this is not an anti-Tesco protest, our store is not even open," it said.